Deprecated: Function get_magic_quotes_gpc() is deprecated in /customers/4/e/1/tickettogreat.com/httpd.www/wp-includes/formatting.php on line 4365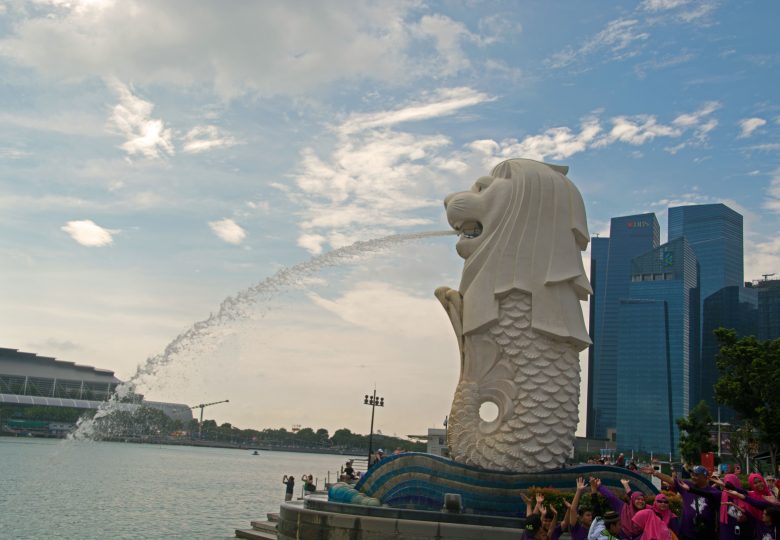 In Sweden we have a saying: Better late than never. Well, here are a few posts that are seriously late, but I would hate myself later on if I did not write them. They did not get written during my time in Singapore for two reasons. 1. I stayed at a very special hostel, with limited space so trying to work on the computer was out of the question. 2. The city had so much to see and visit, so it really wasn't a priority for me.
I spent 10 days in Singapore. This beautiful city. I really loved it from the moment I came out of the airport. I had booked a capsule hotel for my stay, really cheap and I highly recommend it. The rooms come it two different sizes. One is single beds (90cm) and one is queen size beds (160cm). I chose to stay in Chinatown, close to the subway. It was a great area. Never felt anything but safe in this city. I arrived late to Singapore, took a cab from the airport and after having been checked in and given a tour of the place, I packed my bags into my lockable compartment under the bed and went straight to bed.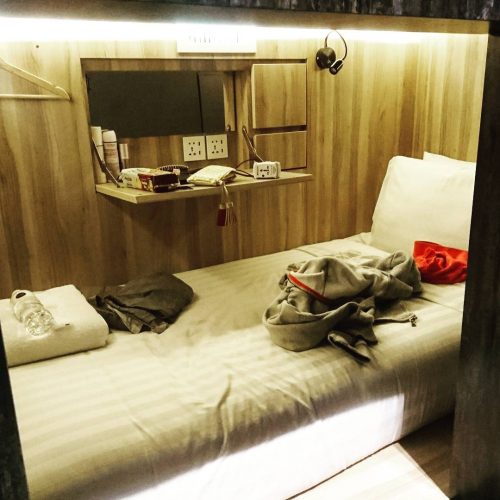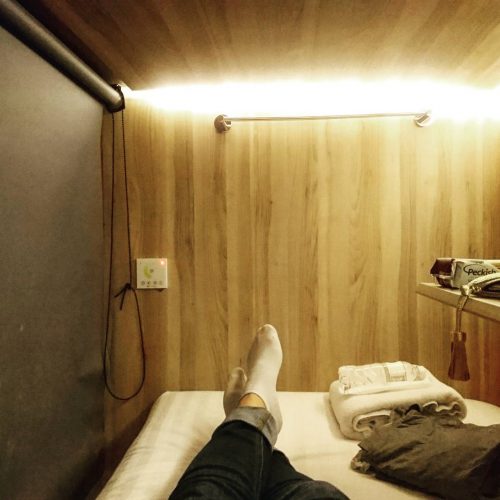 In the morning, I enjoyed the hotels small but sufficient breakfast (included in the price), before heading out discovering Singapore. There are so much to see, and I had been wanting to go to Singapore for the past 13 years, so I tried to structure my time by taking one area of the city per day. I started out with Clark Quay, which was on a walking distance from where I was staying. I was taken back by the beautiful architecture and how amazing this city really is that I forgot to snap photos.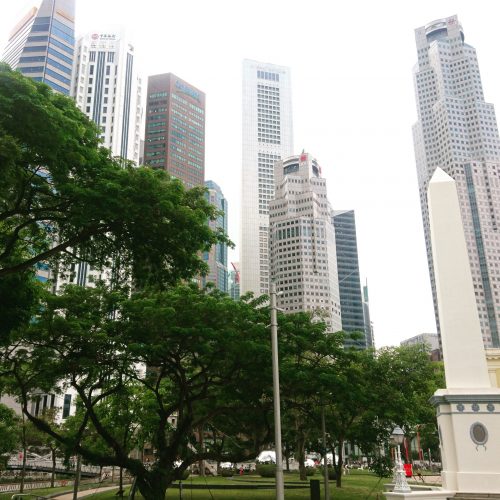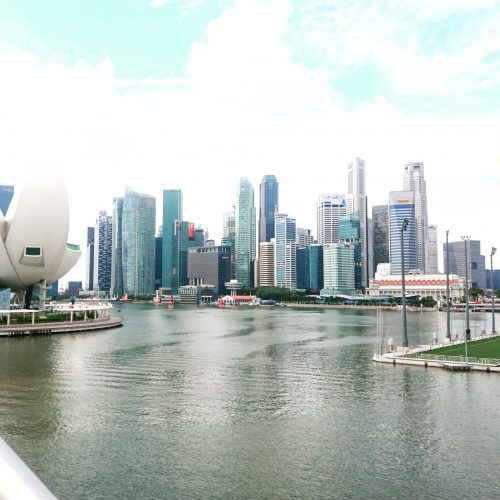 The next day (15.12) I headed downtown to follow a Neighbourhood Walk I had discovered in Lonley Planet (Singapore: Colonial to Cutting Edge). It was great and really passed see worthy buildings and through streets worth a visit. It took me from the City Hall and Raffles Hotel (BIG bummer was that it was completely closed for renovations, so no Singapore Sling for me) to Marina Bay Sands. I did however decide to make this 5 hour walk during two days. So on this day I only made it to the Boat Quay. Beautiful scenery and to be able to actually take it all in I think it was a good idea to split the walk into two days. Before coming to Singapore I had researched and found two stores I wanted to visit before leaving. I new one of them was close to this walk, so I decided to check it out. It was located on the fourth floor of an older complex of small shops. Similar to copy-market in Shanghai, but open-air instead. I hesitated before going into the complex, but all boutiques were great. Mainly bookstores. Mine was focused on architecture, and I felt like I was in book-heaven. LOVED IT! The complex was named Bras Basah Complex and the store was named Basheer Graphic Books. The description of the books contained in this store was "Coffee table books", and totally true. The owners also helps out with international shipment if you are mid-travel and no room for heavy decorative coffe-table-books. Heading out of the store and down the stairs I ran straight into the second store on my list for the city; Cat Socrates. It was just two stories below the book store. In here you can find so many pretty things. Note books, papers, cards, gifts, souvenirs and so much more. Since there actually is a cat in the store, make sure to bring medicine with if allergic to cats.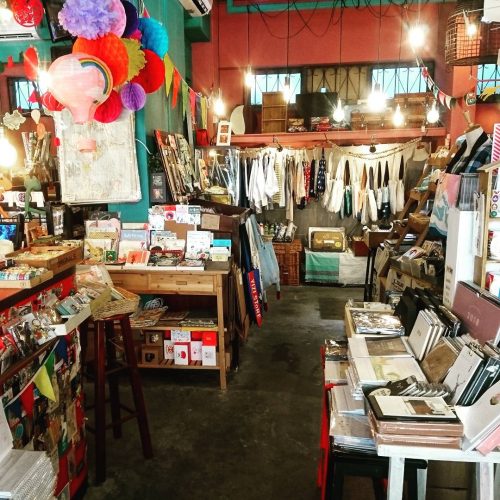 On the next day I walked down to Boat Quay (15-20 min walk from my hotel) and continued onwards to the Merlion statue. Despite being there fairly early in the morning (10-ish) it was really crowded. The Merlion is half fish and half lion and is the official mascot of Singapore. The fish represents the origin as a fishing village and the lion represents the original name of the city – Singapura (meaning Lion city). I passed two of these statues during my stay. After a quick stop here for a few photos I continued to Helix Bridge before making it to Marina Bay Sands. Here I visited an amazing museum. I have a tradition to visit an art museum in each new city I visit. Here I chose to visit ArtScience Museum, and it was spectacular. Through the exhibition art and science is combined, making the pieces WOW-worthy. The one I loved the most was a lighting-piece, where led-lights where expressing the music performed. I printscreened one of the films below, but it really doesn't make it justice. The lights also changed color to the music going from white to pink to purple and blue. So beautiful. It was also possible to walk through the piece on a narrow path. Wish I could have stayed there.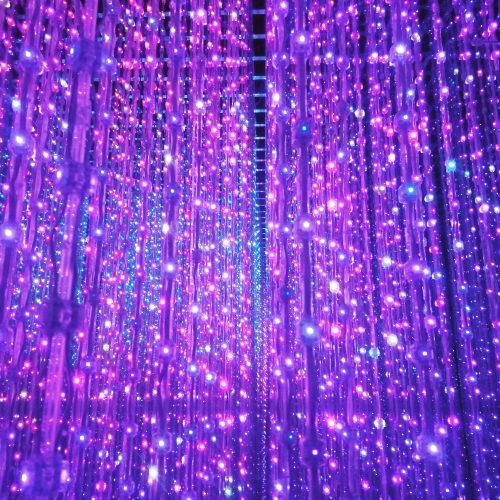 After the museum I went into the spectacular mall of Marina Bay. This is where you find all high-end designer brands. In the middle of the mall you can even find integrated canals on which you can take a short tour on a gondola, passing the massive fountaine. The mall had everything except low-budget brands and in direct access to both Subway, Gardens by the Bay and Marina Bay Hotel.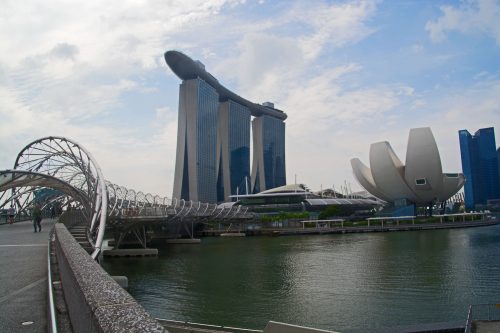 On sunday (17.12) I decided to visit Little India. This was one of the warmer days. In Singapore, because it is so close to the equator, it is always 30 degrees year around. However, clouds help with the heat from the sun, but on this day there was no clouds whatsoever, and no breeze. Having been to India fairly recently (january 2017) it was great to see if there were any similarities between the two. Truth be told, you could really tell it was india-inspired, but without the poverty. The colorful houses, the markets, the people… everything felt very similar to India. Like I had the two days before, I chose to use the neighbourhood walk from Lonely planet when discovering the area. I recommend these alot, since it takes you passed buildings/stores/sculptures etc you otherwise would have missed. This one wasn't as long though, and walking fairly quick due to the heat I finished it in a couple of hours.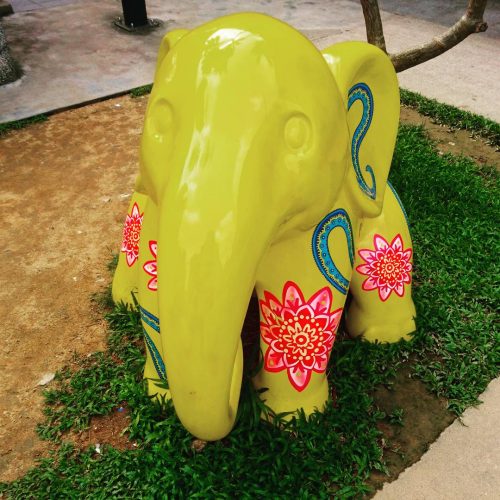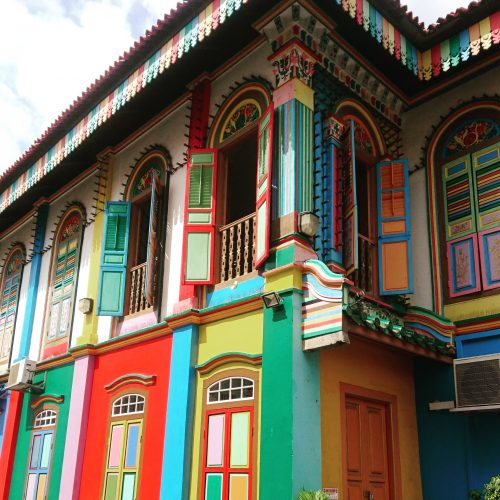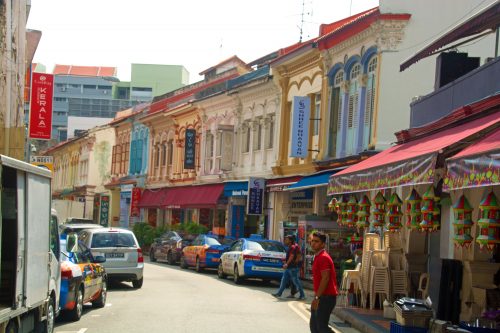 The afternoon I spent on Orchard Road, visiting shopping malls, checking out christmas decorations (felt anything but christmas spirited in the heat) and also went to the movies for some relaxation from all the sightseeing. Watched Murder on the orient express, but didn't care much for the new version despite all the amazing actors in it.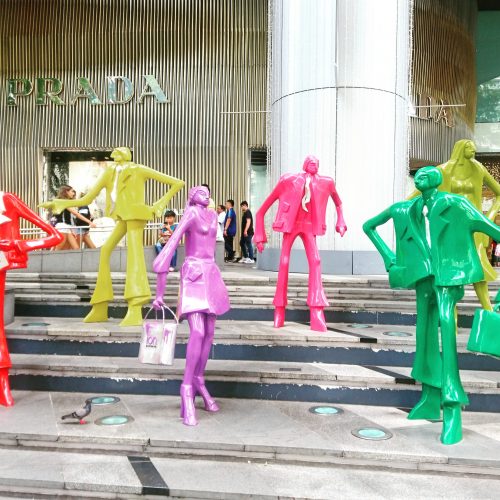 The next day I spent the day in Chinatown, visiting temples, walking the streets with lanterns. With all the special lighting, this area was much prettier to walk through after sunset when you could really enjoy the lanterns and the buzzling food markets. Here was also a few of the high-end restaurants placed. Just below my hotel was the first fast-chinese-food-restaurant to have been given a micheline star. Unfortunaltely, the day I decided to try it out it was closed. So, it will have to wait until my next visit. The afternoon I spent in a new shopping mall. With this being next to last on my trip I actually could do some shopping. And the prices wasn't too bad (designer brands not considered).
On tuesday (19.12) with only a couple of days left, I took an early subway out to Sentosa Island. I rode the cable car over, walked down to see the second Merlion, headed down to enjoy the so far empty beaches (warm water) and walked along them. It was a beautiful island. Taking the cable car from one side the other you could really see all the ships anchored just outside the island. It made you question how clean the water really was. I also got to see my first Monitor Lizard, wild one too. I was walking down to the beach and heard some rustling noice. I stopped and tried to locate it in case it was a rat. Then, in the corner of my eye, I caught something, a giant lizzard just 4 meters away. Massive. I quickly pulled out my camera to catch this, or no one would believe me. Amazing to have seen, and so surreal.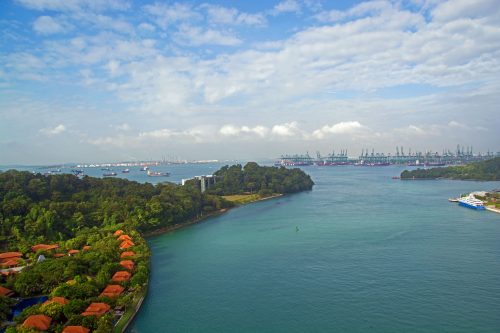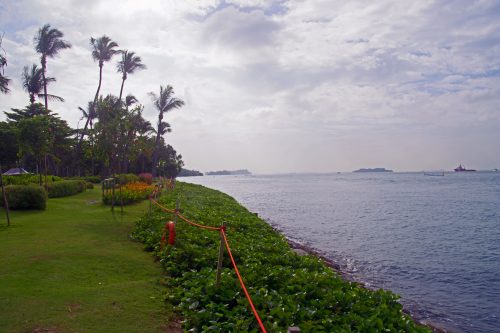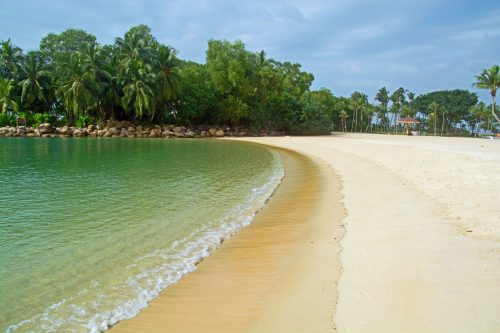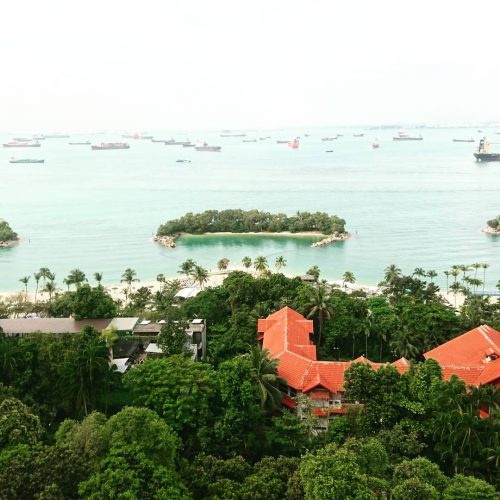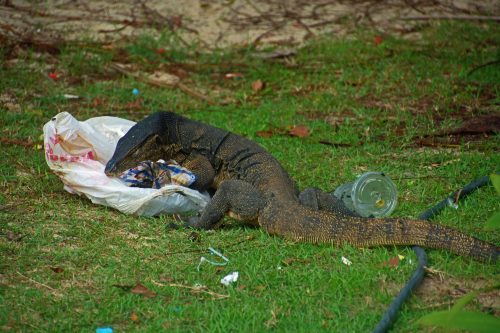 After visiting the beaches I walked to the S.E.A Aquarium. This was, however, not as much fun after having been to Fiji and seeing all of the fishes, sharks etc in real life. You could really tell that some of them were depressed. It was horrible. I quickly walked through and then headed back over to towards the subway. I shortly stopped in the shopping mall on the "mainland" before taking the subway back to the hotel. I had decided to go to Marina Bay Hotel and the rooftop bar that night. It was pricey going up there, but the view… Breathtaking! I would do it again, but next time it would be nice if it didn't decide to start pouring down so that they had to close more than half the bar.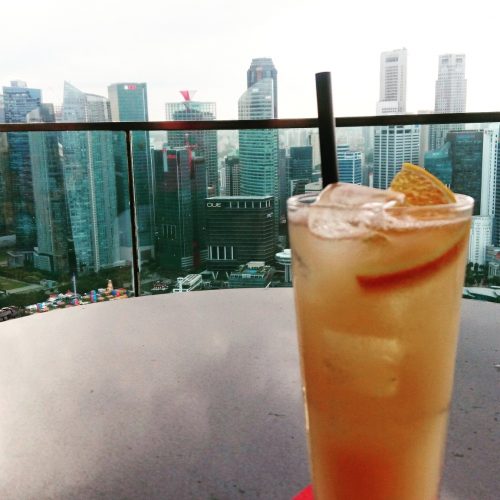 The next day I decided to visit Kampong Glam and Little Arabia. I had, through instagram, found a street I really wanted to visit. So, I started out going there first. I found a really cute smoothie bar, where I stopped and listened to tourguides passing by. The street, Haji Lane, was one of the original shopping streets but today there is only one or two stores left with its original outlook. The rest has been upgraded and looks, according to me, beautiful and unique today. It is a very special street and one that can not be missed when in Singapore. But make sure to be here early to really take it in. I highly recommend Juice Clinic!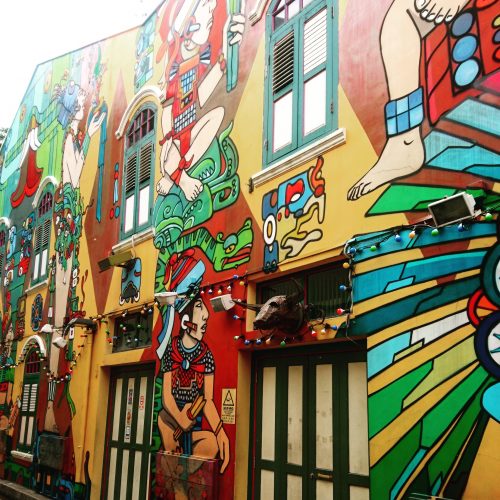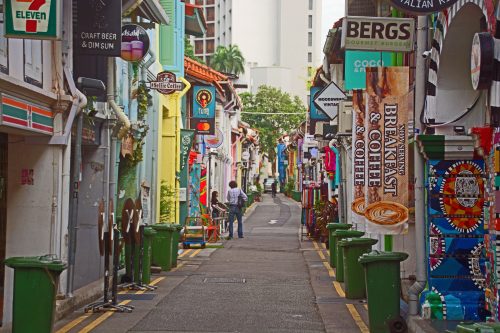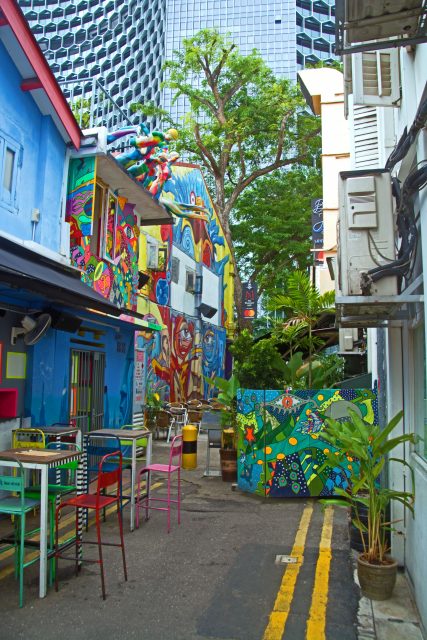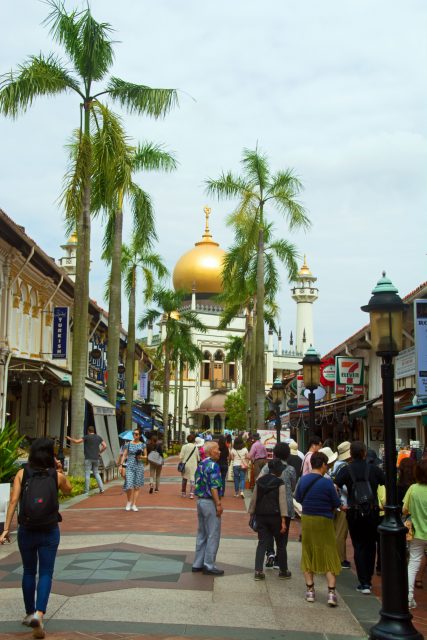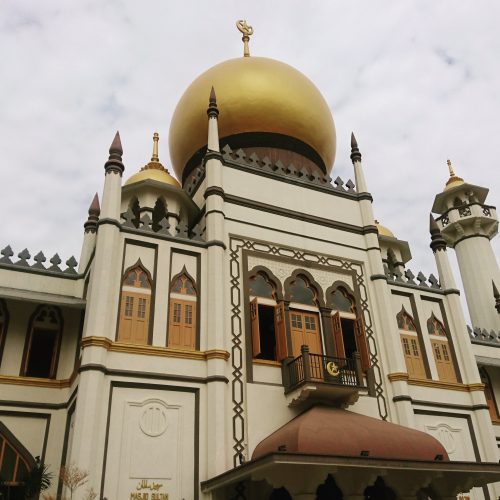 On my last day in Singapore I decided to do some shopping. I had seen most of the sights I wanted to. Some required a days trip, which I didn't have time for. The afternoon and evening I had planned to go to Garden by the Bay. I also did all my packing before leaving the hotel for the evning, knowing I had to get up early the next day to catch my flight to Bangkok.
Getting to Garden by the Bay, I had heard and read mixed reviews, but decided to visit all of it. First of all, it was way bigger than I thought it would be. Second of all, I loved all of it. Fantastic garden that you definitely should visit when in Singapore. Be sure not to miss the Lightshow in the Garden trees. I came fairly late in the afternoon, but it was still cramped with people. There was a christmas fair running (really cute) and since there are some longer distances to walk I suggest not heading here on the hottest of days.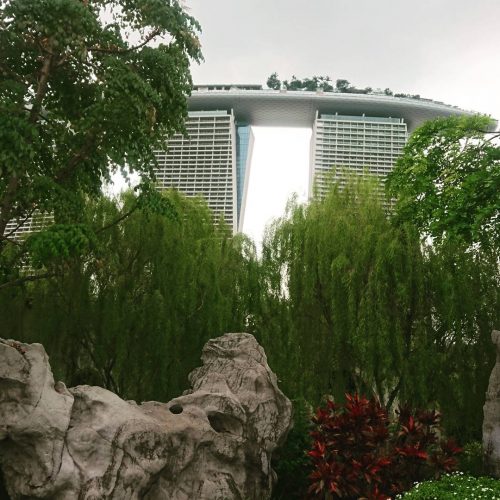 I started out by visiting the two conservatories; the Flower Dome and the Cloud Forrest Dome. Both amazing in their own special way. The building, in which they are housing, are spectacular architecturally. Having spent a couple of hours I decided to head into the Christmas fair and wait for the lightshow to begin. In the meantime I got to experience a tropical snow blizzard(!!). A lot of people gathered under the chistmas decorated house, a christmas jingle began playing and suddely the air was filled with foam sprayed from major machines. All the kids and adults too were extremly excited. My guess this was the only kind of snow many people had discovered. Like my cousins kids said when first experiencing snow: Oh my god! It's freezing cold!